CAD Stoker for 227 t/h Boiler
at US Sugar, Clewiston FL



US Sugar's Clewiston Mill is the largest cane sugar factory in the US. When the company ordered a new 227 ton/hr Thermal Energy Systems boiler it selected a TES Continuous Ash Discharge Stoker for it to cope with the highly variable ash loadings that it experiences because of its particular cane land conditions and to minimise the risk of peak emissions that may arise from stokers employing intermittent ash discharge techniques. CAD stokers are notoriously non-photogenic but we did manage to photograph it during its trial assembly in the fabricator's works :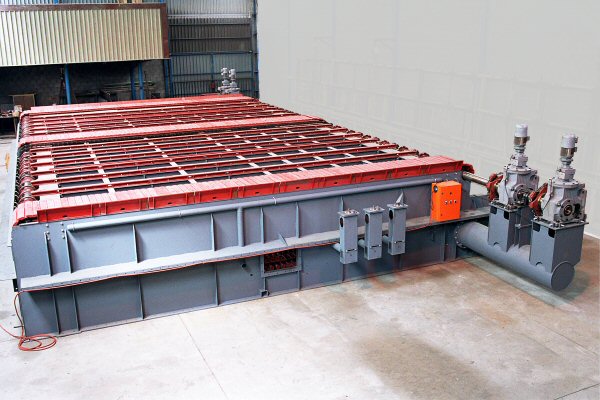 The stoker is thought to be the largest of its type in the world, having sprocket centres of 7 550 mm and a width of 12 720 mm. In this view the rear of the stoker is to the left. The unit is partially zoned : the manual damper actuator pedestals are on the side towards the front. TES stokers can be supplied un-zoned, partially zoned or fully zoned with either manual or automatically controlled actuators.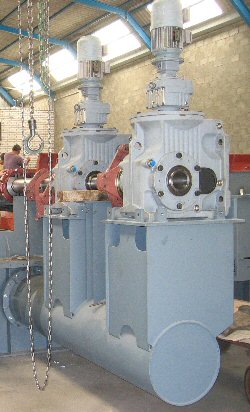 When finalising the details of the unit, US Sugar engineers specified that its working surface should be divided into four sections across the width in order to secure the factory's sugar production in the unlikely event of a drive failure. There are therefore twin drives on each side of the unit using a hollow drive shaft to nest the second shaft.

In this view, two motor/gearbox combinations can clearly be seen mounted on their pedestals which sit atop the torque tube attached to the stoker frame. The torque tube arrangement is standard on all TES CAD stokers. It reduces differential expansion between the gearbox mounting and the stoker frame. The stoker shafts are driven through chain couplings that take up axial expansion.
The stoker was installed in mid 2004 :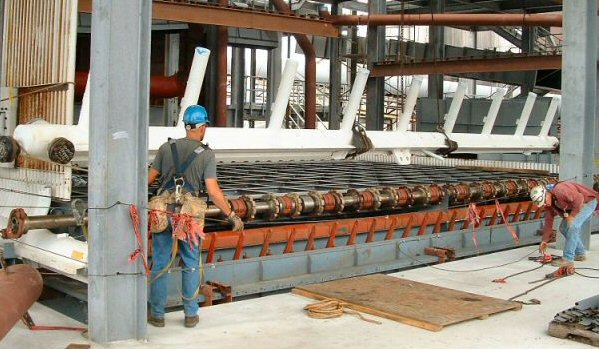 ---