Construction of 200 t/h Boiler in
Tamaulipas Province, Mexico

The Aarón Sáenz Garza sugar factory at Xicohténcatl is one of three owned by Grupo Occidente, at that time a Tate and Lyle joint venture company. The new 200 ton/hr Thermal Energy Systems boiler was procured and built by a Tate and Lyle engineering team for the factory using our fully detailed drawings.
This boiler was specified to operate at an initial pressure of 3,100 kPa even though its design operating condition is 4,100 kPa. Although that might sound simple, it is not because the different specific volume of steam at the lower pressure means that the volume flow [which dictates the steam/water separation technology] is 33% higher. The boiler is equipped with TES pinhole grate, triple drum bagasse feeders and pneumatic spreaders.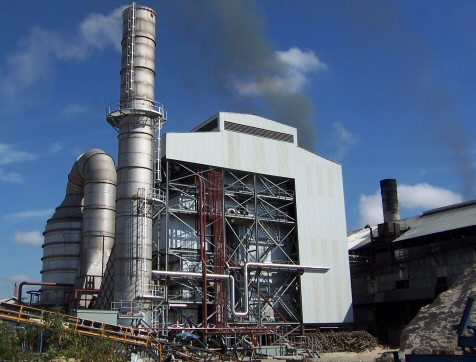 This picture was taken in mid November 2007.
---